Die Kunst des Fallens #residency #LCB #Berlin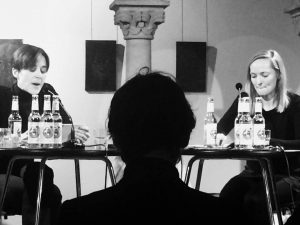 Kort bericht vanuit het heerlijke LCB (Literarisches Colloquium Berlin) aan de Wannsee, waar ik vijf weken in residentie ben om aan mijn nieuwe boek te werken. Gisteren hadden we hier Hausgäste-lesung – dus voor wie me in het Duits wil horen voorlezen uit De kunst van het vallen: hierbij de link!
Below you find the audiolink to my Hausgäste-lesung at the fantastic Literarisches Colloquium Berlin about my novels (previous and in-the-making) and my new music theatre project #HetKanaal. I've also read you a piece of De kunst van het vallen in German, translated wonderfully into German by Isabel Hessel. I was told that Saskia De Coster, Lize Spit & Nina Weijers had a month of language coaching here before their readings at the Frankfurter Buchmesse – luckily I was speed-coached by my German friends (thx Johanna Zimmer!) who tried to fix my ¨'s…
It was more bravery than elegance, but hey – ich habe es geschafft!
Het portretinterview op Kulturradio RBB kan je hier beluisteren. Thx, Sarah Hartl!
I'm on kulturradio vom rbb!