Page EN
Gaea Schoeters (°1976) is a (screen)writer, journalist and librettist.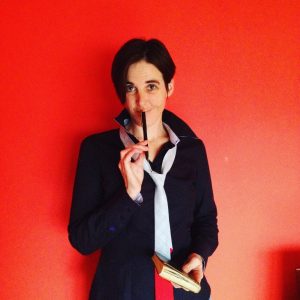 She made her debut with the travel book Girls, Muslims and Motorcycles about a seven-month motorcycle trip through Iran, Central Asia and the Arabian Peninsula. This was followed the novels Diggers (Manteau), The art of falling (De Bezige Bij) and Untitled #1 (Querido) and the interview-collection Het Einde (Polis). Her latest novel, Trofee, was shortlisted for various prizes and won the Sabam Prize for literature and a Special mention of the European Union Prize for Literature. With illustrator Gerda Dendooven she made Nothing (De Eenhoorn), a philosophical picture book for children young and old. With composer Annelies Van Parys she wrote several award-winning operas and music theatre pieces, such as Private View, Usher, The Channel, Holle Haven and Notwehr. Their work is performed at venues such as Biennale Venice, Staatsoper Unter den Linden, Folkoperan Stockholm, Opera Ballet Vlaanderen, Deutsche Oper, Operadagen Rotterdam and Theater aan Zee, but also in unusual places, like the station opera Lost & Found.
Schoeters is a very versatile writer, who loves to play around with all things written — except poetry, which she only writes secretly. All her work lies at the intersection of formal experimentation and social engagement. In collaboration with Johanna Pas she translates Kae Tempest to Dutch, and she is also a much sought-after columnist and essayist for various newspapers and magazines. She's also a keen performer, and the curator & host of the Dead Ladies Show, a café chantant that spotlights forgotten women.
Her latest novel, Trophy, will be translated in 7 languages.
The French and German editions will be published in '22, the others will follow in '23.
English, French and German translations of the children's story Nothing, the theatre play The Channel, and nearly all operas and theatre works are available upon request.
Upcoming premières can be found at the Theatre-page:
the music theatre piece Notwehr will premiere at Biënnale Venice in september '22
the operette Boze Bejaarden will tour in '22/'23
You can find a short bio/bibliography in English here.
If you require more information or if you have any questions concerning foreign right matters or available translations, or if you have any other question about my work or motorbiketravels, please contact me via the contact form.
A decent update of this page will follow soon.
________
Unfortunately, my other books haven't been translated yet.
However, a brief summary of most of my novels can be found here:
Meisjes, Moslims & Motoren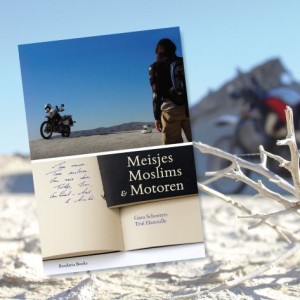 A non-fiction travel story about an overland motorbike journey in the footsteps of Ella Maillart and Annemarie Schwarzenbach.
 "One of the most interesting travel books in years." —De Standaard—
2 girls. 2 motorbikes. 30000 kilometres. 7 months. 15 countries.
"To Iran? On a motorbike? Two girls? Isn't that dangerous? And why there?" The short answer is: out of sheer curiosity. Because we don't believe that Muslim countries are more dangerous than others. And because it is a wild girls' dream: adventurous and nostalgic at the same time. So off we went, Eastwards, looking for a world where time moves slower. We followed the trail of two Swiss writers, Annemarie Schwarzenbach and Ella Maillart, who travelled to Afghanistan together in 1939. And realised to our surprise how little has changed since then… and at the same time, how much. Meisjes, Moslims & Motoren is, in this era of fear of everything alien to us, a very relevant story, as it focusses on our encounters with ordinary Muslim men and women. At the same time, it captures our longing for a wild and untouched outback, which turned the recent movie Weit um der Welt into such a huge success.
Diggers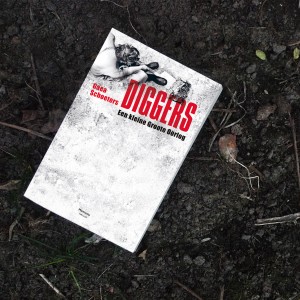 A thriller set in Flanders' Fields, flirting with WWI-history, but also a coming-of-age novel about friendship and love.
 "A new star has risen in Flemish crime." —De Standaard—
25000 euros. To clear a field in Western Flanders of all relics of the first World War. Of course archaeologist Arne Overstijns refuses the dodgy assignment. Until he unexpectedly loses his PHD-grant. Together with two childhood friends, he starts to dig. But as the dark clay reveals its secrets, it becomes clear everyone has his own hidden agenda. With every spade the moral borders shift. And then they make a spectacular discovery: a fully intact body of a young soldier. They think they've made the discovery of a lifetime, until they realise it a recent corpse. Soon after, the first murder follows.
Diggers is a novel that digs deeply in the history of Flanders Fields, flirts with the First World War, makes a brief detour to Hitler's favourite dog, only to return to the essence: the horrifying results of one single stupidity.
De kunst van het vallen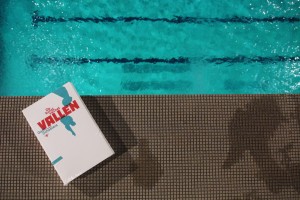 A love story set against the backdrop of the collapse of the Eastern Bloc, structured like a piano trio.
Who wants to experience what living in a dictatorship feels like, should try an affair. Every phone-call a risk, every parking ticket potential evidence. And yet – the most beautiful stories grow under the most difficult circumstances. But what if everything collapses? And statues and lovers tumble off their pedestals?
The Art of Falling is about the inability to love uninhibited, and our refusal to accept that. After a break-up the narrator is looking for a new (love) story. For a brief moment the romance with the young diver Alex seems to be the answer, but it quickly becomes clear that his youthful innocence cannot erase the betrayal from the past. Catharina too longs for the past, but the collapse of the Wall has erased the country which she misses forever. In their shared nostalgia for something that no longer exists, she and the narrator find each other. Until the present brutally disturbs their illusion.
"****. An ingeniously constructed novel, full of sparkling ideas about faith, time and music. Maybe even more interesting than Kundera." —De Volkskrant—

"A colourful and lively mind-game-in-book-form, set against the background of world politics." —NRC—

****. De kunst van het vallen lives up to its ambition. —De Standaard—
Excerpt in German, translated by Isabel Hessel, available upon request.
Het Kanaal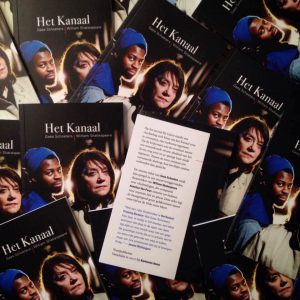 A theatre text in which two monologues interact with a recently rediscovered Shakespeare text on refugees.
"What an incredibly rich theatre text! It looks deeply into the soul of our times, and the beautiful irony is for once not used to look away, but to emotionally stir us." —Jeroen Olyslaegers—
On the beach of Calais a refugee prepares to swim the Canal, towards his future. On the chalk cliffs on the other side, a (transsexual) woman bids her life goodbye; in a couple of minutes she'll jump to her end. Their monologues blend into a dialogue across the sea: they're about to find out their fates are connected stronger than expected.
Contrary to what you'd think, The Channel isn't a sad story, but a crude and critical tragicomedy. The new texts echo a recently rediscovered Shakespeare-text, in which the sheriff of London tries to prevent that a mob of angry citizens lynches a group of recently arrived refugees. The similarities with today are striking. Migration is phenomenon of all times, and so is our primary reaction to it: every organism repels what is alien. The Strangers have to go.
---
Below you find the audiolink to my Hausgäste-lesung at the fantastic Literarisches Colloquium Berlin about my novels (previous and in-the-making) and my new music theatre project #HetKanaal. I've also read you a piece of De kunst van het vallen in German, translated wonderfully into German by Isabel Hessel.  Since I never had German in school, it was more bravery than elegance, but hey – ich habe es geschafft!
Sarah Hartl also did an interview with me for Kulturradio RBB – you can find that by clicking the link here!
On kulturradio vom rbb!
Thank you!